INTERVIEW WITH BETH IN BATTLE MODE
Well, who is Beth and what kind of battle she's trying to win?
"Beth" IS the band. What is she battling?I dunno…mediocrity maybe?Mediocrity is totally our enemy.
It's been a long time you've started playing together?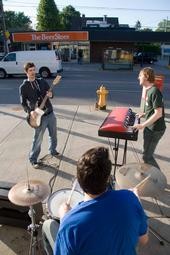 Our first show as a three-piece was in November of 2006,so it's been a while.Actually, Ed and I played in a short-lived band in college, called "The Vanbots". And when I say short-lived,I mean "The Vanbots" only played once—and we only played two songs.
Toronto "Everyone is in a band" as you say, with Ed singing out loud..
In Athens, good friends, bad friends, boyfriends and girlfriends, young and old, talented or fools, charming or not, almost "everyone is in a band"… Is this all about music or just vanity?
Some people start bands so they can say they're in a band, or because they think they'll get free drinks or something. In our case ,it was simply because we wanted to hang out together and have fun. There was no big plan, and even now there isn't much of one!
Your songs truly "touch" the triangle: optimism-dexterity-constantly providing lots of energy and lust for life.
So, what about the recipe?
Ha !The recipe is a family secret!
What is it about all this Them influence?
Them was a pretty good band! That was Van Morrison's band before he went solo, and we used to sound a bit like them in the early days when I only played organ and not all the silly synths that I do now. I haven't seen the movie that's called "Them!", which is about an attack of giant ants, but the clips I've seen look both scary and ridiculous.
How can someone who lives in Greece, get in touch with Beth In Battle Mode's music and to be specific, with "Technical Know-How"?
I don't know ! We're on all iTunes, but I'm not sure if you have that there. With our next album, we're hoping to have the sound files sold directly from our website. If that happens, we'll have "Technical know-how" available the same way. Until then…we have lots of copies we could mail, but it might be a bit expensive. I should probably find out.
Any possibilities or thoughts to play in Europe, keeping away of your minds the obstacle of the really long journey..?
That would be amazing, definitely!I daydream about it all the time…it sure would be nice to be in sunny Greece during the cold Canadian winter (laughs).Maybe if we get enough requests for our album we'll do it, hint hint!
You're really having that much fun as you seem to?
Sometimes we're having more!
www.myspace.com/bethinbattlemode
http://www.apple.com/search/ipoditunes/?q=beth+in+battle+mode